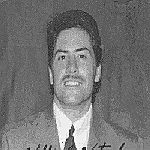 Welcome to Fischer Technologies, Inc. (FTINET)! Do you know the key to accessing the Internet? Maybe you're a "surfer" - finding information, news, and services by utilizing today's most powerful communications tool, the personal computer. How would you like to be part of this leading technology - with the ability to reach millions of people at your fingertips?

Fischer Technologies is pleased to announce a new service available - the creation of personalized Home Pages on the World Wide Web. Imagine your business being promoted to anyone who uses the Internet. And unlike traditional advertising, you can update information on a real-time basis to adapt to the changing needs of your clientele. No need to create new ads every month and an opportunity to try an innovative approach to finding and creating new customer relationships.

How can we do it? Simple. Using our state of the art technology and equipment, Fischer Technologies will create a unique Home Page for you which can be viewed on the Internet. We will update your Home Page at your request and help you track inquiries via the Internet. Show people that you are a business in touch with today's informed customer .

Call today for your risk-free, no obligation trial Home Page. We think you'll agree - advertising on the Internet is the technology you need to meet the growing demands of today's surging communications market.

Sincerely,




Scott Fischer
Fischer Technologies, Inc.
Fischer Technologies - Innovative Technology for Today's Independent Businesses